November 2012 LAM NZ update
LAM Trust Director Bronwyn Gray attended the 2nd European LAM Meeting held at the end of September in Barcelona. A number of key clinical and basic research investigators came together for the two day meeting which highlighted research progress made in the two years since the inaugural European LAM meeting, held in 2010 in Udine, Italy.
LAM patients and family members attended from Spain, Italy, Germany, Holland, Great Britain, Romania, Israel and France.
See below for details on our upcoming NZ LAM Trust fundraising event…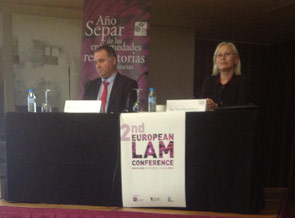 ---
2012 LAM Fundraising event:
The NZ LAM Trust end of year fundraiser will be in the form of a house concert titled "Talking about Katherine Mansfield"
The acclaimed New Zealand actress Cathy Downes will present this one woman show about the life of New Zealand writer Katherine Mansfield, who died of lung disease in 1923.
Date: November 18th, 2012 — House Concert in Parnell — Tickets $35 — for further details & information email director@lam.org.nz